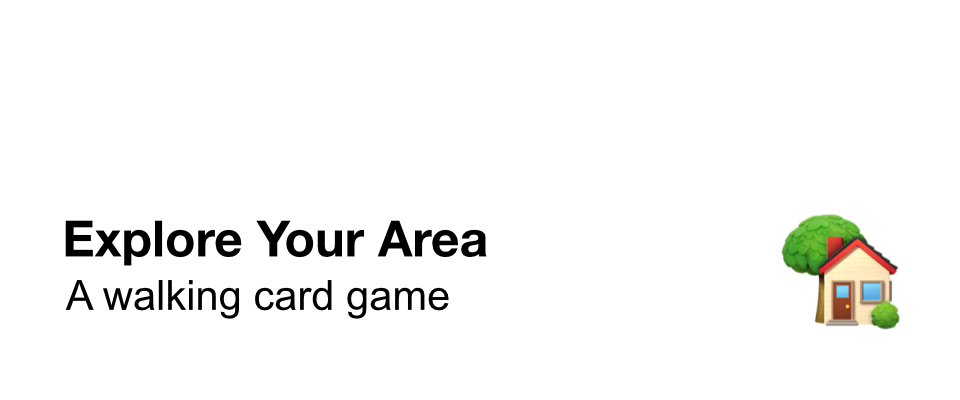 Explore Your Area
What is this?
Explore Your Area is a walking card game designed to encourage you to explore your neighborhood. It gives you reasons to walk around your local neighborhood and serendipitously discover new things.
The attached download is a PDF of the rules you need to play this game. Additionally, you'll require a standard 52 card deck to play. If you don't have a deck of cards, I made a small web app you can use on a smartphone to simulate a deck.
There are several optional rules listed in the PDF, choose any (or none) of them to follow as you play! This game is very much a jumping off point, if you make any house rules or alterations to the deck please let me know about them.


Rules

Here are the rules pulled from the PDF, the lookup table is in the PDF.
Shuffle a standard 52 card deck of playing cards
Draw a card
Walk to a location where you can take a photo of what's on that card
Take a photo of that card location
Repeat steps 2-4 until you want to stop walking
Optional Rules
The next location must not be in line of sight from your last location
Locations must be at least a ten minute walk apart
Work your way through the whole deck before re-shuffling
Don't revisit the same location for the same card, go to a new park! Use your photos as a reference.
Remove cards you don't like, add ones you do. Tell me what they are!
If you draw a card you can't do, draw a new one. Be careful not to underestimate yourself though!
Download
Click download now to get access to the following files:
Explore Your Area Rules.pdf
399 kB